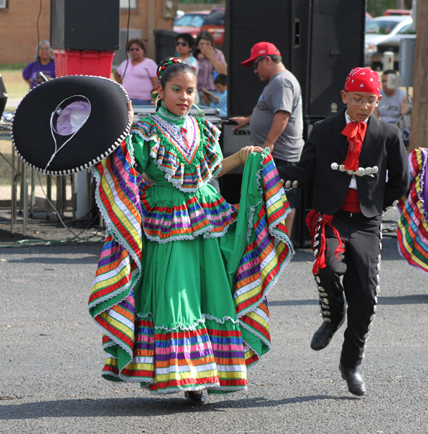 AirFest, Dyess Air Force Base, 4-28-2012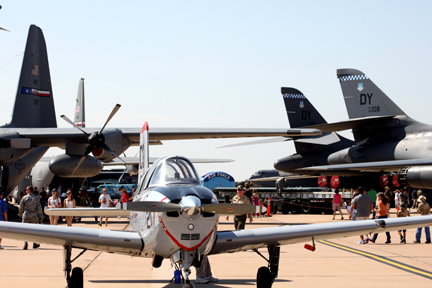 Spring Clean and Tire Amnesty Days coming April 12- 14
ABILENE, Texas – Clear out unwanted items from your property and recycle them during the upcoming Spring Clean and Tire Amnesty Days. During this annual event, citizens have a chance to spruce up their homes and properties while conveniently dropping off their cast-off items at the City of Abilene's Environmental Recycling Center (ERC) located at 2209 Oak St.
The event will take place Thursday, April 12 through Saturday, April 14. Hours of operation are from 9 a.m. to 4:30 p.m. Due to safety concerns, Oak Street will turn into a one way street with vehicles entering from South 25th Street, on Saturday, April 14.
Typically, the ERC is a drop-off point for citizens to bring almost any type of recyclable materials including plastics, glass and cardboard to bulkier items such as outdated electronics, furniture and old appliances. However, certain items such as large-scale remodeling project materials will not be accepted. While most items may be dropped off free of charge, citizens will be asked to off-load their own items.
At this year's Spring Clean, citizens may bring up to eight passenger tires without rims, free of charge with proof of residency (current water bill). However, truck tires without rims are $6 per tire and with rims $8 per tire. Ag tires will be accepted without rims only for a $35 per tire service fee. No commercial or business tires will be accepted.
For more information on recycling or the Spring Clean event, call 325-672-2209.

TICKETS ON SALE FOR APRIL 15 ALICE IN WONDERLAND MUSICAL IN ABILENE
Abilene, TEXAS—tickets are now on sale for the upcoming live, professional theatrical performance of "Alice in Wonderland," presented by the Children's Performing Arts Series.
The show will be performed on Sunday, April 15 at 2 p.m. at the Paramount Theatre, 352 Cypress Street.
Single tickets are only $8.
"Alice in Wonderland" is the last of three productions in the CPAS 2011-2012 season.
Audiences will enjoy this exciting, full scale musical production from American Family Theater featuring colorful sets, inventive costumes, creative staging and iconic characters like the Mad Hatter, Tweedledum and Tweedledee, the White Rabbit, and of course, Alice herself.
Leslie Bennett of the N. Y. Times says this about American Family Theater productions:
"Their shows burst with energy, song, and special effects. Again and again, American Family Theater proves how strong it is in creating original contemporary theater. Their engaging productions wonderfully command the attention of young audiences and their sprit is contagious."
Season tickets for next year's 2012-2013 season will go on sale in late March. The lineup of new shows includes "Sleeping Beauty," scheduled for Oct. 14, 2012, "ImaginOcean," to be performed on Feb. 17, 2013 and "Pinkalicious," scheduled for April 21. 2013."
2011-2012 Season tickets are $25 and $40 for all three shows. The $40 VIP level includes admission to two after parties, where children and their families can enjoy refreshments, craft activities and meet the cast of the shows.
The first 50 people purchasing new season tickets for next season will receive an invitation to the special "Mad Hatter's tea party" following the Alice in Wonderland show.
Military and group discounts are also available. Tickets may be purchased online at abilenecac.org or by calling 677-1161. On the day of the show, tickets will be available at the Paramount Theatre box office beginning at 12:30 p.m.
The Children's Performing Arts Series is a division of the Abilene Cultural Affairs Council, a non profit organization.
CPAS brings live professional theater productions to Abilene for the benefit and enjoyment of the area's youngest audiences and their families. Ticket prices are made affordable though the generous underwriting of individuals and businesses in the community.
Tickets may be purchased online at abilenecac.org. Tickets can also be purchased over the phone by calling 677-1161 or in person by visiting the CPAS office in the T&P Depot at 1101 North 1st Street, Monday – Friday between 8:30 – 5 p.m.
For more information, call CPAS director Hollye Jaklewicz at 677-1161 or send an email to cpas@abilene.com.
OAKWOOD TRAILS GOLF CLASSIC FOR 2012, APRIL 13
GOLFERS, NEEDED NOW!
The Abilene Volunteer Services Council is announcing for the 28th year the Oakwood Trails Golf Classic to
benefit Abilene Supported Living center (formerly Abilene State School). All proceeds from the event go directly to impove the
quality of life for the residents of the Center. This year all proceeds will go to the new Fitness Park which includes walking and
biking trails and activity pads for other activities. Some funds have been raised for the Park still in the planning stage.''

The tournament is for the golfing public with an affordable fee of $95 per person which includes a cart use, breakfast, lunch, range
balls, door prizes and goody bags. There's a shotgun start at 9 am with check-in at 8 am. Oakwood Trails Golf Classic has become
very popular through the years. Location for the Classic is at Diamondback Golf Club as usual.

Call 795-3547 for more information and registration particulars. Golfers may form their own teams of four.

10

th

Annual Youth Job Fair Assists Youth & Employers With Summer Employment Opportunities
Abilene, Texas--In an effort to assist young job seekers in finding summer and part-time employment, Workforce Solutions of West Central Texas, and the Abilene Chamber of Commerce will sponsor "Hot Dog--I Got a Job!" Area Youth Job Fair on Friday, March 9th, 2012 from 1:00-5:00p.m. at the Abilene Civic Center, 1100 N. 6th Street. Job seekers, age 16-21, are invited to meet representatives from businesses and to complete applications for employment. Over 35 businesses have registered to attend, with multiple job openings. Job opportunities include sales, customer service, cooks, and wait staff at the afternoon event. Registration is FREE to all job seekers and employers seeking to hire for summer job openings. In addition, this years event will promote job training through volunteer opportunities. Applicants will receive assistance from professional staff in completing applications and marketing themselves to potential employers. In preparation for meeting employers and completing applications, job seekers should bring a pen, their social security number, and dress appropriately for an interview.
Job seekers will receive a coupon for a hot dog, courtesy of Sonic Drive-In.. "This event allows us to assist local employers in obtaining summer help and provides applicants the convenience of applying for a number of jobs in one location. It's a win-win opportunity for employers and applicants," states Mary Ross, Executive Director of the Workforce Solutions of West Central Texas. Job seekers may complete pre-registration forms by visiting the Workforce Solutions website at www.workforcesystem.org. or by e-mail youthjobfair@workforcesystem.org For more information about the job fair or other services for job seekers, contact Workforce Solutions at (325)795-4397.
The Workforce Solutions of West Central Texas Board is an equal opportunity employer. Auxiliary aids and services are available upon request to individuals with disabilities (1-800-735-2989 TDD or 1-800-735-2988 voice) for accessible communication.
Workshop Offers Assistance to Entrepreneurs and New Business Start-ups
ABILENE, TEXAS---The West Texas Innovation Network is sponsoring a "Mentor Forum" on Thursday, March 8th from 6:00 p.m. to 8:00 p.m. at the Small Business Development Center, Conference Room, 6th Floor of the Enterprise Building, 500 Chestnut, Abilene, Texas. There is no registration fee for this event
Local, successful business owners will provide guidance, advice and encouragement for those who are considering and/or have taken steps to start a business. The business owners offer their expertise and perspectives as a gesture of appreciation for those who have mentored them in their own entrepreneurship development. Bring your questions and become involved in a new business dialogue.
The WEST TEXAS INNOVATION NETWORK (WTIN) provides access to training opportunities for entrepreneurs aspiring to start their own businesses. Mike Mikeworth, Project Manager states "We work with a variety of community partners, small business owners and other entrepreneurship interests in the Big Country in order to make available quality training, consulting and events to local entrepreneurs." Most of these services are at NO COST to the attendees, but require registration. For more information and to register online, visit www.wtin.org All Big Country residents are invited to attend this forum. Funding for the West Texas Innovation Network was provided through a grant from the Texas Workforce Commission.
The West Texas Innovation Network is a collaborative effort of the ACU Griggs Center for Entrepreneurship and Philanthropy, the Texas Tech Small Business Development Center and the Workforce Solutions of West Central Texas Board focused on supporting entrepreneurs by providing networking, training, mentoring and resources. Additional information about WTIN may be obtained by visiting our website at www.wtin.org. Mike Mikeworth
WTIN Project Manager 325-795-4313 , Workforce Solutions of West Central Texas








25th annual TET Reunion 2012, Feb. 4th, Taylor County Display Bldg.


Granddaughter holds flag with grandfather, who served in the Vietnam War