Manuel Hernandez: Abilene's Spanish Broadcasting Pioneer

In the 1950s and early 1960s Hispanics in Abilene did not have their own local Spanish language broadcasting programs on radio or television as they do today. But Abilene native Manuel Hernandez was getting ready to change that. As Abilene's Hispanic broadcasting pioneer he came to be known as "West Texas' most popular Spanish disk jockey." Hernandez describes the circumstances, "Back then the radio stations did not want Spanish broadcasting in Abilene". Hernandez was told that in order to broadcast on the radio, he would have to obtain a broadcasting license. "That was one of the problems for Hispanics wanting to get in the industry in Abilene; no one had a license to broadcast".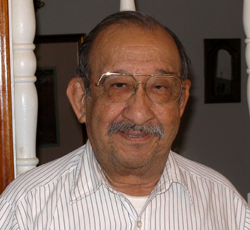 Hernandez received his education in the 1940s. He attended St. Francis Catholic Church grade school, the Americanization School on North 8th, Abilene Junior High School on South 1st and Peach, and graduated from Abilene High School in 1951. When Hernandez started Abilene High in 1946 there were seven Hispanic students. He stated that at first Hernandez and his fellow Hispanic students were told they would be attending the black school at Woodson High School, but instead they were sent to Abilene High. "It was very difficult to be accepted as Hispanics at Abilene High the year we started," Hernandez stated.
Hernandez studied at Abilene Christian College (now Abilene Christian University) to obtain his Federal Communications Commission 3rd class broadcasting license, which allowed him to broadcast. However, he was required to have a person with a 1st class license in the studio. His first break in Spanish broadcasting came at KWFA AM in Merkel, Texas in 1960. John Curtis, the station general manager, believed in giving Hernandez the opportunity to have a Spanish language program on a part-time basis. "El Programa con Manuel Hernandez" started in the early 1960s with a thirty- minute program Monday-Friday and on Sunday afternoons. Hernandez recalled, "the station was on the air from sun up to sun down and my program was the last program to sign off each day". Hernandez played the latest "en la musica Chicano" or "Tex-Mex" which is now known as Tejano Music. There were plenty of popular Tejano artists such as Little Joe and the Latinaires, Sunny and the Sunliners, Joe Bravo, Agustin Ramirez, Gilbert and the Blue Notes, Latin Breed, Shorty and Corvettes, Los Relampagos and many others. As a result of the large quantity of music material, the program needed more air time. Hernandez returned to Abilene Christian and obtained his FCC 1st class license so he could broadcast in the studio without a mentor. Hernandez moved to a one hour Spanish language program that aired Saturday and Sunday morning on KRBC 1470 AM. The broadcast at KRBC AM radio aired from February 15, 1978 to October 4, 1983.
From the time Hernandez started to broadcast his Spanish programs on radio, he also started to promote the Tejano artist through local dance venues. Years earlier, Hernandez had been a founding member of the local American G.I. Forum organization which promoted dances at the Carpenter Hall, 1066 South 2nd. Hernandez recalled that one of the favorite artists was a young Little Joe Hernandez and the Latinaires from Temple, Texas. Hernandez started promoting dances at the Key City Sportorium on E. Hwy 80. He would draw a full dance hall with the favorite Tejano groups of the time, Little Joe, Joe Bravo, Agustin Ramirez, Ruben and Alfonso Ramos, Sunny and the Sunliners and many more as headliners. Hernandez stated that he had to promote to larger venues such as the Taylor County display and round buildings, the Taylor County Coliseum and the Abilene Civic Center. Hernandez recalled that at one promotion at the Abilene Civic Center where La Mafia and Little Joe were both performing; he had to stop the ticket sales at 1,500 because the fire code would not allow more people in the building.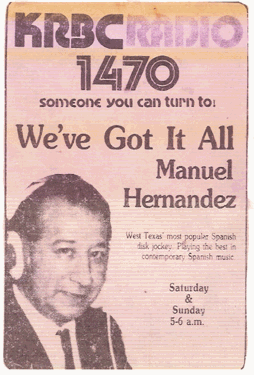 In 1987 Hernandez started to host a Sunday two-hour television program on cable channel 7, which ran for four years. "Abilene had a lot of talented Hispanic groups and we were able to promote them on TV," said Hernandez. Talents such as Cande Flores, Rick and the Romans, Danny Ortiz, Cris and the Sunrays, The Excels with lead singer Henry Davila, Los Herrantes de Zacatecaz, Carlos Fernandez y Los Fantasticos, Manuel Vidaurri, and Mike Olvera and the Latin Notes were groups at the time. Many of the groups recorded single 45s and LP albums. Hernandez recalled that Father Herman Villadares from St. Vincent Pallotti Catholic Church was a regular on the show where he would introduce the St. Vincent Ballet Folklorico dancers. According to Hernandez, "Father Valladares wanted the young group to perform on TV to give them encouragement".
In 2006 during the 2nd annual Barrio del Sancudo Reunion at Reyes Flores Park, Manuel Hernandez returned to introduce Cande Flores and Rick Martinez y Los Preferidos before their performances. The reunion between broadcaster/promoter and the artist rekindled many memories of Manuel's broadcasting days.

Today he is still involved in the community. He is proud to be a chartered lifetime member of the League of United Latin American Citizens, Council 605. He is involved at St. Francis Catholic Church and is a 4th degree member of the Knights of Columbus. Manuel is the person to contact if you are looking to rent the Knights of Columbus Hall located at 1302 South 32nd.
Manuel has an old Abilene Reporter News ad that sums up his career in broadcasting, " KRBC Radio 1470, someone you can turn to: We've Got It All, Manuel Hernandez. West Texas' most popular Spanish disk jockey. Playing the best in contemporary Spanish music."

To view a collection of Hernandez' early Tejano artist poster cards, Click images below.
Article by:
Mike Hernandez
HispanicAbilene.com
2007 All rights reserved.